Processing Community Hangout 1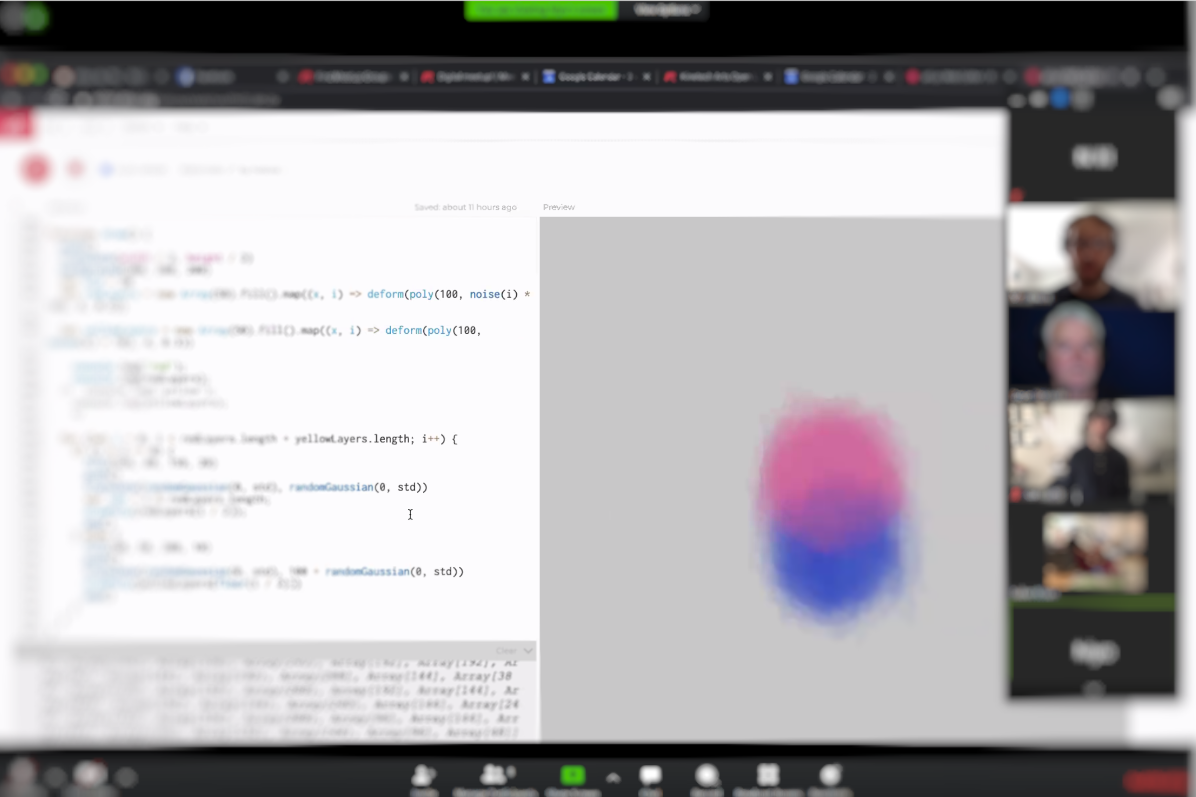 On April 5th, Saber and I organized the first Processing Community Hangout. The idea is to open a durational session (this time lasted for 5 hours) where anyone interested in art and code can join and leave anytime to talk about ideas related to or not to Processing. This time, around 20 people showed up and shared interesting projects with us.
We are starting a #dailycodingchallenge in Japanese alphabet, but if you're interested, we also made a translated version in English 💙🖥️https://t.co/wWc8PJU6t5@ProcessingOrg @p5xjs @becca_rose_

— PCD @ Tokyo (@PCD_Tokyo) March 30, 2020
I started with sharing the daily coding challenge, which I am organizing as part of Processing Community Day (PCD) Tokyo. Based on the idea of Inktober or Codevember, participants make sketches based on the given theme each day. Although we organize it as PCD Tokyo, there is no restriction to the creative coding language, and of course, everyone is welcome to join regardless of their skills. If you are interested, please check out the hashtag to see what people are creating.
Art sharing his curriculum :) https://t.co/NPfdbg6nMq pic.twitter.com/xhNQdwLZsR

— Naoto HIÉDA (@naoto_hieda) April 5, 2020
Art Simon, HS Computer Science Teacher, shared his curriculum with us. He teaches Processing Java, and his website has a nice interactive, generative flower-like shape.
Marie works on creative "games", and she shared an idea of zoom bombing, but in a creative way rather than spamming conferences. She already has ideas such as time keepers and performances, and she is open for collaborators so please check out her website.
Aarón shared us an idea of using the quarantine time to learn something new, for example, live coding for him. Not only to learn by himself, he spends time with friends to teach each other. Nevertheless, the important lesson is not to make the quarantine too productive.
Stig teaches Processing to design students. He shared how to motivate design students to learn programming and also practical tips such as tweak mode in Processing to help students understand programming in an intuitive way. You can find more in his video on Facebook.
Kofi is a live-coding performer based in Montreal, Canada. He talked about his practices as well as tools he is using such as Hydra and Freeliner.
Liam is a musician known as @mrbombmusic. In his YouTube channel, you can find music-making tutorials for various tools such as p5.js, Sonic Pi, Makey Makey.
Hiyo shared painting-like sketches using p5.js, which shows delicate brush strokes generated by a program.
Dave showed us some of his examples such as 3D snake game. Also he introduced how he teaches programming through repl.it, a collaborative platform for web programming. In the example above, multiple people can edit the sketch simultaneously, and in the end we collaboratively created an interactive sketch that follows the mouse. For education, the teacher can write tasks as comments and students implement it, or it can be used for multiple people for coding jam.
we did collective coding on https://t.co/G5BCYDeqNb! so many great ideas! @ProcessingOrg @p5xjs pic.twitter.com/VcxKP8YYcn

— Naoto HIÉDA (@naoto_hieda) April 5, 2020
Not only individual projects, we talked about how to proceed with the online Processing Community Day idea. We already opened a form for proposals, but we are planning to make another form, which is more casual and easier to fill out. We are still brainstorming ideas for the online PCD and hangouts and open to suggestions. Please feel free to reach out to me or Saber!
The next hangout is not scheduled yet, but we are thinking about making this a monthly event. Please follow @ProcessingOrg for the updates!